Fuel Boost Pump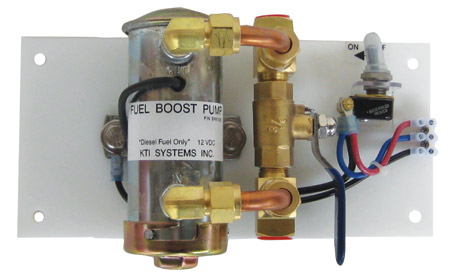 The Fuel Boost Pump was designed so it can be installed between your fuel tank and primary filter, or between the primary filter and the engine lift pump.
In parallel with the Fuel Boost Pump is a bypass shut off valve; this allows the "normal" flow to travel around the pump which reduces the possibility of the pump clogging.
Locating the Fuel Boost Pump between the fuel tank and the primary filter will allow for pressure servicing of the filter. The Fuel Boost Pump will supply sufficient fuel pressure and flow for servicing and bleeding, as well as aft as a back up if your engine lift pump fails and is not leaking.
---
Product Details
Part No: BRK1926 – Higher Fuel Flow, 3/8″ fittings
The Fuel Boost Pump comes pre-mounted
Mounting board is 4.5″ x 9.5″