Choosing The Right System
Our systems are rated in total fuel FLOW, that is the fuel burned and the fuel returned to the tank. If your engine burns 2 gallons per hour (GPH) and returns 15 GPH it would be a total of 17 GPH.
For this example, we would recommend the FC60 system with a rated filter fuel flow from 0-60 GPH. If your fuel flow is more than 70% of the rated system, go to the next higher size. This will allow for more fuel filtration.
---
SYSTEM

FC60 FC90 FC180 FC600

FUEL FLOW

0-60 GPH 0-90 GPH 0-180 GPH 0-600 GPH
You may also want to consider your fuel tank size and flow needed during the "Polishing" mode.
If you need assistance please call us: 1-800-336-0315
---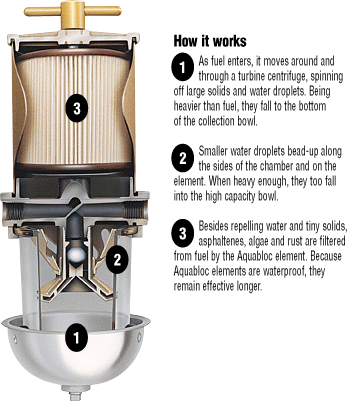 FilterBOSS COMMANDER pre-mounted systems come with Racor fuel filters. Racor's leading edge technology and worldwide availability make them the best choice for the marine environment.
Their selection of Aquabloc® medias is known worldwide for its combination of high efficiency, long life and unsurpassed water-removal performance. Racor has kept pace with the increasing demands of fuel filtration from tough engine requirements for finer particle-removal efficiencies and longer life.
---
Racor Filters have multiple Certifications:
Underwriters Laboratories
American Bureau of Shipping
United States Coast Guard
American Boat & Yacht Council and more.

---
Want to Learn More?
Visit these pages:
Models Available:
Click to view
If you prefer the system to be mounted with different filters, please contact us: 1-800-336-0315