Commander Systems
The FilterBOSS COMMANDER system was designed to combat problems of a diesel engine system.
Owning a FilterBOSS gives you the
confidence
that your fuel system is working properly. The peace of mind knowing that when a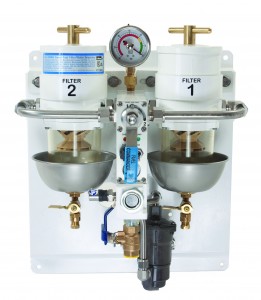 fuel problem appears, you have the right equipment for the job, and don't have to worry about engine surprises!
Modular System (for tight spaces, custom units, etc)
And here's how to choose the right system
*All Units have the same features and benefits, and differ only in filter size and fuel polishing capacity (gallons per hour GPH). Here's how to choose the right system or contact us.
---
Main Features & Benefits
---
Dual Fuel Filter System

– 1 online filter and 1 offline (standby) filter.


Single Lever Operation

– makes it easy to switch filters. This allows for continued engine operation during the filter change.


Optional Remote Operation

– allowing the operator to electrically switch filters from the helm.


Early Warning Panel

– alerts the operator that the filter is starting to clog and needs to be changed.


Integrated Fuel Pump

– provides back up fuel pressure to the engine lift pump if the lift pump has low pressure or fails.


Filter Filler

– allows for easy Quick System Bleeding


Onboard Fuel Polishing

– accomplished with the integrated fuel pump and built in manifolds makes it easy to clean your fuel. The "polishing" mode will allow the operator to check the quality of the fuel that is being put into the tank while at the fuel pump or to run periodic fuel cleaning maintenance. The built in flow sight allows the operator to check for air bubbles and proper valve configuration.


Easy System Testing

– can be accomplished prior to departure. This checks the fuel system for air leaks, proper fuel system operation and warning light operation.


Vacuum Gauge

– helps the operator know the condition of the online filter and also helps in finding air leaks when performing the system test.


Pressure Gauge

– lets the operator know the pump is working and also helps in pressure testing the system for fuel leaks.


Filter Light

– helps the operator to view the condition of the fuel in limited lighting areas.


Vacuum and Pressure Transducers

– (FC600 only) will allow for easy integration with the ships monitoring system.
---
Product Details
---
Powder coated aluminum housing and panels, with stainless steel fittings and tubing ORB or NPT connections.

Modular Design – for tight spaces

,
12 and 24 Volt Control Voltage

0 to 180 – Gallons Per Hour (GPH) Fuel Flow
---
Want to Learn More?
Visit these pages:
Models Available:
FilterBoss Commander (FC) is available in 3 Models. Click the link to view more about each model.