Modular System
The FilterBOSS COMMANDER is a dual filter controller with built in vacuum and pressure gauges for monitoring the online filter.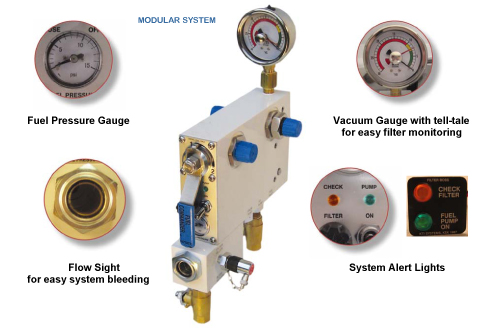 Part No: FC2008M-12/24
This modular system allows for the mounting of the COMMANDER along with two fuel filters and an integrated fuel pump, in the best configuration for your boat. The remote Early Warning Panel (EWP) allows an advance warning at the helm that the filter is clogging by an amber LED light. A green LED light indicates when the fuel pump is on.
The warning panel is 1″ square so it can be mounted in close quarters. The bleed port along with an integrated fuel pump helps with filter or engine servicing to bleed out air. It will also allow for onboard fuel polishing.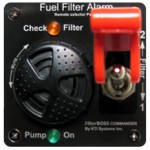 Also available with our NEW Electric Filter Switch, operated from the helm! PN ETK2008M-EFS
---
The "Filter Filler" helps to top off the filter when changing elements. Additionally the fuel pump can supply fuel flow to the injector unit if the engine lift pump fails. The unit is powder-coated aluminum with stainless steel fittings and a Con-x weather tight cannon plug with 10′ electrical harness.
*Note: You will need two fuel filters and a fuel pump to use this system as instructed.
---
Modular System Data Sheet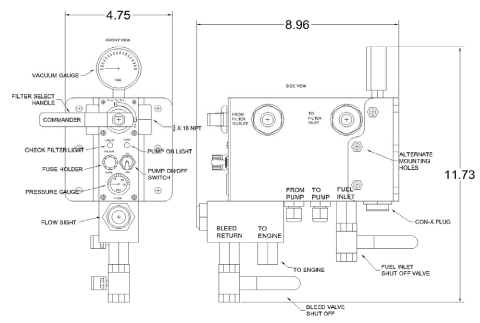 How The System Works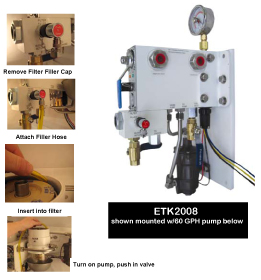 Part No: ETK2008-12/24
| | |
| --- | --- |
| VOLTAGE | 12 OR 24 |
| AMPS | Varies by Pump |
| FLOW RATE | Varies by Filter & Pump |
| FUEL TYPE | DIESEL |
| FUSE | 5 AMP |
| MAX PRESSURE | 15 PSI |
| VACUUM SWITCH TRIP POINT (70 Degree day) | TRIP POINT 7 TO 10 IN HG |
| PORT SIZE | 3/8 NPT or 1/2 NPT |
| VACUUM GAUGE | -30 IN HG, 2.5″, INTERNAL SNUBBER |
| PRESSURE GAUGE | 0-15 PSI, 1″,        INTERNAL SNUBBER |
| EARLY WARNING PANEL | STANDARD |
| 10′ WIRING HARNESS | STANDARD |
| FILTER FILLER | STANDARD |
| FILTER LIGHT | N/A |