Customer Testimonials
We are proud to show photos our customers have submitted of their FilterBOSS installations. Perhaps they will inspire you to add yourself to our group of satisfied customers!
---
Ken & Kathy Sparaco have easy access to their system on "Beach House" a 36′ CHB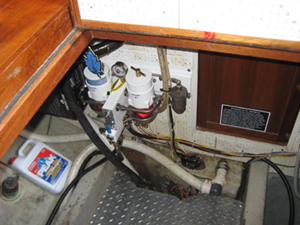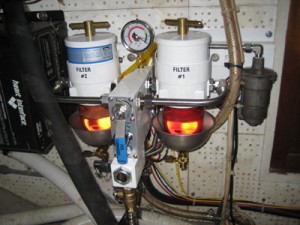 ---
Juergen Koerner's install on "Bijou" a Nauticat, included manifolds for multiple tanks. Note how the "Filter Light" shows clearly the condition of filter #1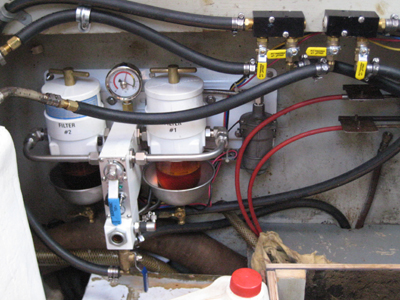 Custom Unit for Catamaran "Lorilie" with manifolds for multitanks and genset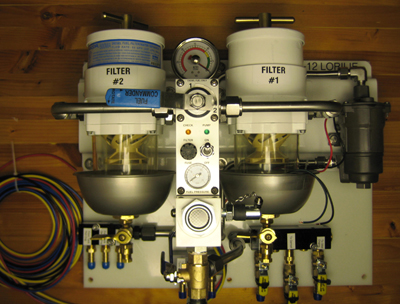 ---
Dave Cross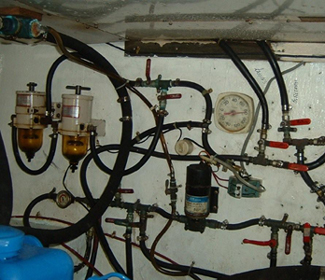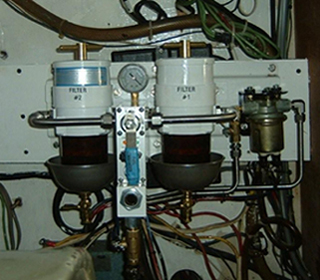 ---
Allan & Rina Alexopulos

Allan asked for a customized unit with the filters mounted to the left of the FilterBOSS. This made it easier to change the filters when needed.
---
William Burton

S/V Far Niente
Installed on a hinged door with flexible fuel line for easy access to filters. Lots of fuel line but with the FilterBOSS pre-departure check, he can be sure he is air-leak free!
---
Jerry Buchanan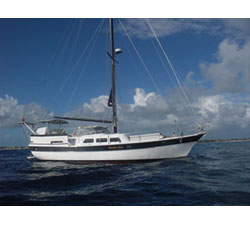 S/V Madeline Rose
---
Stu Willoughby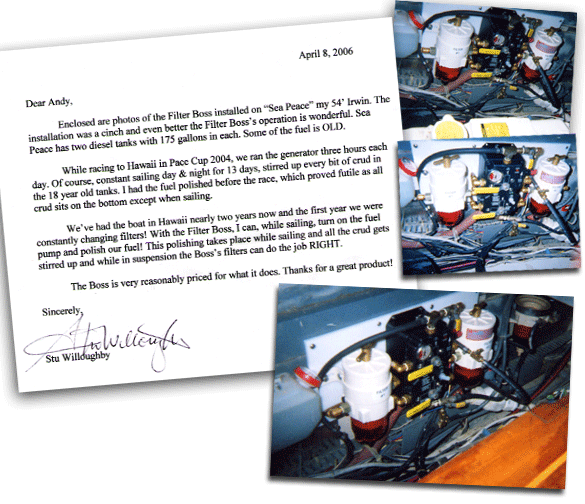 Stu loved our system so much that he volunteered to sell the FilterBOSS at the Oakland 07 show! Thanks for the long lunch break Stu!
---
Bob Bitchin (Lost Soul)
Bob installed the FilterBOSS AND the FuelBOSS! A tidy helm and of course you gotta have those fuel manifolds! He has asked Andy to help design the fuel system with the FilterBOSS for his new Shannon boat as well.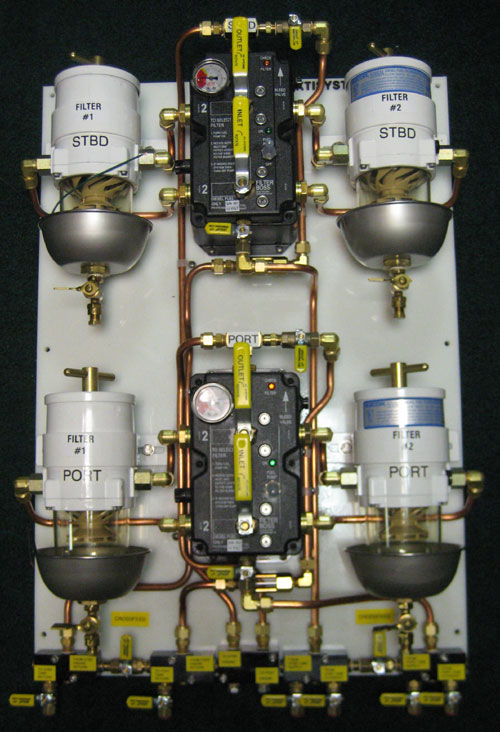 Here is the first design for a DUAL FILTERBOSS SYSTEM two engines, two tanks, but integrated so you can utilize both tanks for either engine as well as polish from one tank and back or from one to the other tank. Lots of manifolds, but well laid out and labeled. Plus Bob's a smart guy (He's got Jody) and is good with this stuff!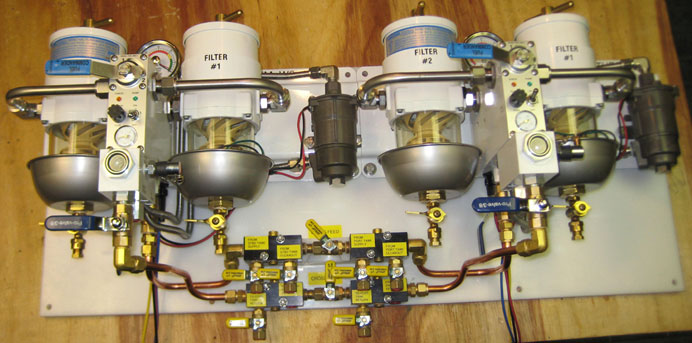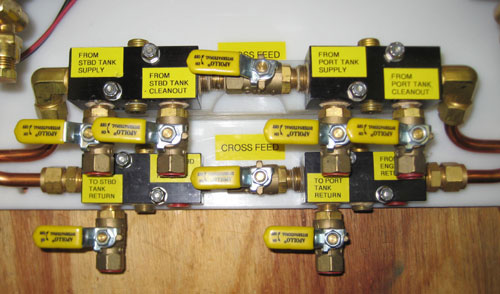 This is the new unit using the FILTERBOSS COMMANDER UNITS. Again the freedom to choose the configuration Bob wants when running motors or polishing fuel. Each manifold is clearly labeled for ease of use. And it takes less space!
---
Ron Heinmann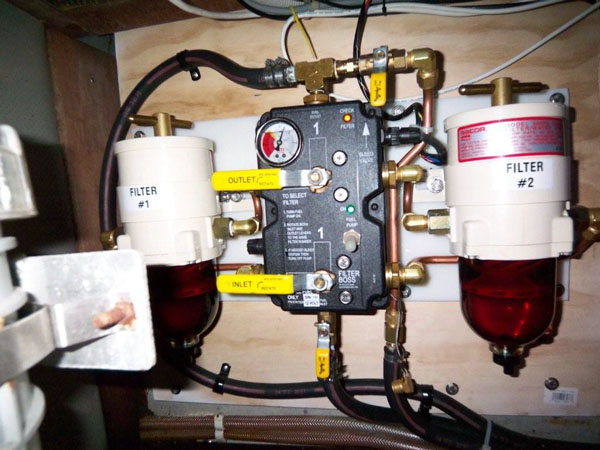 Installed on S/V Bremer Speck, a 1989 Nauticat 40
---
Paul Fredrickson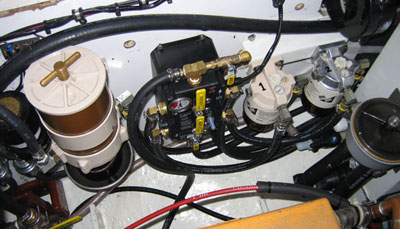 Hi Andy, Success, Filterboss installation is done.
40ft Shields Marine 3/8
15 cut lengths
56 clamps
3 way valve to day tank
9 new fittings, 8 old fittings, lots of permatex thread sealant
1 fuel leak (fixed top copper compression)
2 bleeds using FB pump
Boom!
Thanks for your help. Paul Fredrickson, owner/captain s/v MYTYME, 37ft Bruce Roberts Pilothouse Cutter (32,000lb steel motorsailor)
---
Jon and Arline Libby
The FilterBoss
One of the first things Jon and I agreed on was that we would put out the cash and buy our new boat the Filter Boss. One of the worst things for me is to be at the helm on a wonderful day or down right miserable day (which for Jon this would still be a great day- on the boat) and have the engine quit and find a clogged filter, which then you have to deal with it. We felt that was the most important issue with a boat. Our engine has very few miles on it and most problems with diesel engines end up being fuel, fuel, or fuel. The Previous owner Rick (Boat is still at his dock) was kind enough to take the old Diesel fuel out for us and clean the inside out, this way we can install the FilterBoss and start with a clean tank all at the same time. Here is a photo of the dirty fuel.
Jon went down to Connecticut for the weekend to install it and get some other things done on the boat.
Monday, April 9, 2007 The "Boss" is in. Jon's weekend at the boat was very productive. Jon and Rick managed to install the FilterBoss and before leaving was able to run the engine, he was very pleased with how smooth it was to install it and really likes the unit. If you would like any info about it just email him and he will be glad to answer any questions you have.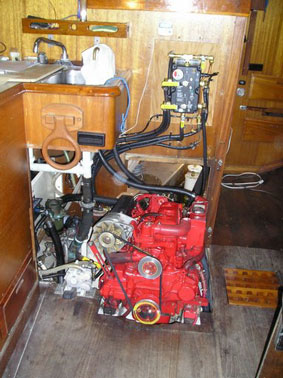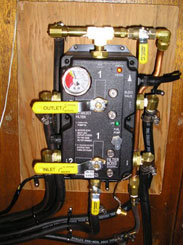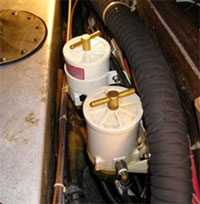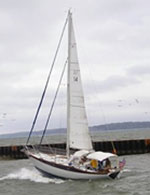 ---
Mike Andersen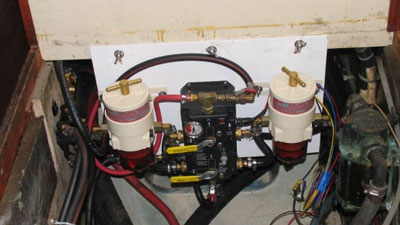 Installed on a moveable mounting board for access behind the FilterBOSS!
---
Jeff Davidson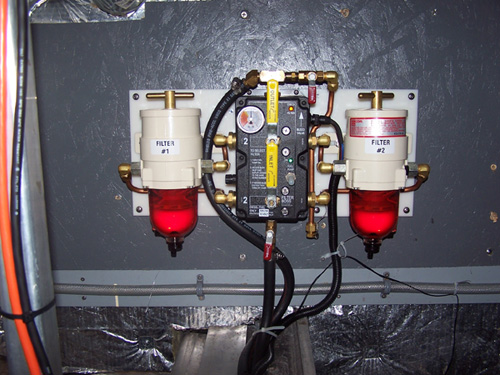 Nice to have all that room, what a clean and clear install!
---
Roger John
Hi there, I wanted to send you a few pictures of s/v Cutthroat and the installation of her new Heart, Your FilterBoss System. We are in Oahu and setting sail for Sitka, Alaska o/a 1 June. We definitely wanted this system installed before we hit the rough waters around here again. We have tested the system at the dock and it is great and will test drive the system at sea this next week prior to the voyage to Alaska, inside passage and to San Diego. That is our plan for the rest of the year. You folks, both of you, have been so responsive to my questions, whenever I have called. Thank you, Roger and Elise, www.sailcutthroat.com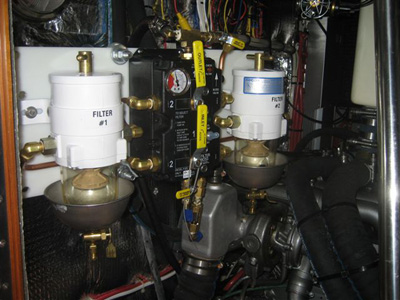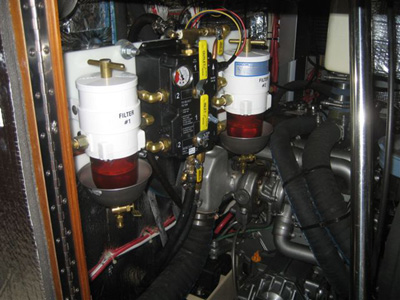 ---
Tim Hall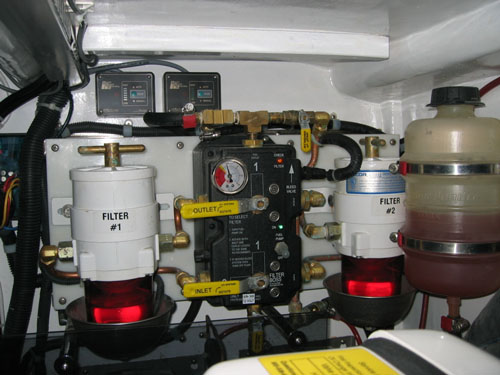 ---
Mike Amato
"I am so happy with my FilterBOSS that my wife is a little jealous. I can sometimes be found in the engine room sipping wine, admiring my filter system!"